HOW GOOD ARE ACTUALLY OUR JET SKIS?
24-Aug-23 | Insights, Jet-Ski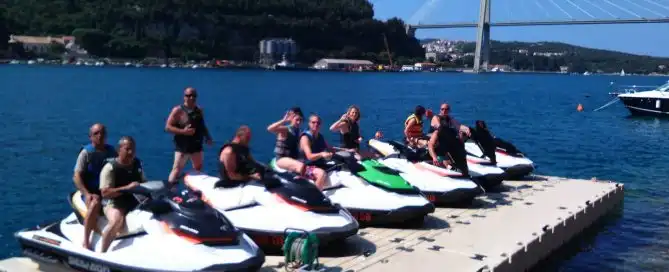 Maybe you are not a professional with jet skis and you have never ridden one. What you have to take into consideration when choosing your jet ski provider is what was the year of the jet ski construction. This part is the same as with a car. If someone bought a car in the year 2000, you are well aware of the fact that within the last 15 years, technology has completely changed. And the same car which is produced in the year 2013 or 2014 has much more powerful features than the one produced in the year 2000. This is how it is with the jet skis. The newer, the better. What does this mean for you? It means that this brand-new technology allows jet skis to sit better on the sea, to have a much smoother ride, and to be much safer to ride. All of this should be taken into consideration when choosing your partner. The logical question is then, how could we have afforded the new jet skis? Well, this is part of our business policy. In everything that we do we want to be the best. We want to have the latest models available, the nicest customer service available, provide you with the best-planned tours, etc. Let's also be realistic. You are doing this activity once in your lifetime. You hop on that "baby" and your ride it like a "maniac" on the sea. Wouldn't you feel better riding a jet ski that is brand new, has nice seats, powerful drive, as opposed to the one that is for example 15 years old? Unfortunately, on our coast, you can even encounter deals like that, so please make sure that you contact your provider and ask them what is the year of production of their jet skis. We assure you that here, with us, you get only the latest technology. I guess it has to do with the thing that we belong to Generation Y. Generation Y is a group of young people around the world who want to do in life that which they love to do. We love jet skis, all of us dreamed all our life to have a jet ski company one day, and now in 2008, it became possible. Ever since then, we are successful in that which we do. In one of my next posts, I will tell you more about us, so you meet us better personally, so you know who your business partner is so that you know who will be waiting for you with a car once you come to this region for a touristic time of your life. Here is what is waiting for you – Sea-Doo Spark – Year of construction 2014, with a speed of 55 miles per hour. This jet ski is designed only for 1 person and it has a beast engine Rotax 900 HO ACE / 90 HP. Now, that is power man! O.K. Now close your eyes. Imagine that you are sitting on this jet ski. And now step on the speed, my friend. When you feel that pull, you will be absolutely amazed!