JET SKI TOUR IN DETAIL
19-Apr-23 | Insights, Jet-Ski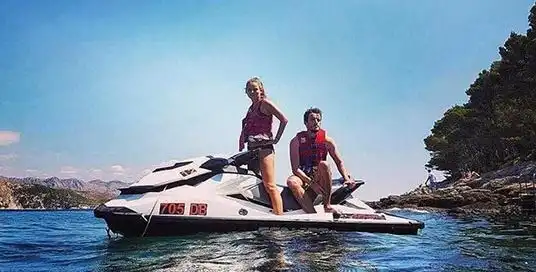 Compared to a boat ride which is much slower, a jet ski tour enables you to see the stunning Croatian islands within one, two, or three days. The faster speed of a jet ski allows you to enjoy beautiful sights at high speeds. Planning a trip is crucial, and in this blog, I will provide you with information on what a tour may look like, including locations, ideas, and tips. However, I will not reveal everything to you, as it's important to keep some surprises.
Our starting point is Garitransfer location, where you will experience the biggest thrill of being on the open sea with a jet ski. Your first option is to visit Bay Kolocep, one of the Croatian cultural treasures and one of the most beautiful sceneries to experience. On the opposite side of the bay are several caves, which you can explore at high speeds on a jet ski. After that, you can head to the smallest island in the area, called Saint Andria, which offers another unique experience. You can then make a 180-degree turn and head to Lokrum or go to Sunj, the best sandy beach on the Adriatic. A full-day tour is recommended to fully experience all these locations.
There is always something new to see on the islands, and even when I have nothing to do, I hop on my jet ski with my brothers and explore. However, it's important to be cautious and responsible while riding a jet ski. Check out our images and see how much fun our previous clients had. One of them even made a selfie on his jet ski ride. So, come and enjoy the speed and the once-in-a-lifetime experience!