JET SKI VIDEO ADVENTURE "GARI INTRODUCTION" EXPLAINED
19-Apr-23 | Insights, Jet-Ski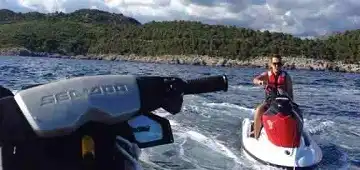 If you're still unsure about whether a jet ski trip is right for you, take a minute to check out our "Gari introduction" video. This carefully edited 1-minute work gives you a taste of what to expect on your jet ski tour.
The video begins with a breathtaking helicopter shot of Dubrovnik, highlighting the stunning natural beauty of the region and the city itself. But what's more exciting is the prospect of exploring the wide blue sea on our top-quality Sea-Doo jet skis.
As you watch the video, you'll also catch glimpses of the gorgeous islands dotting the coastline. Imagine the thrill of racing across the waves, coming within arm's reach of these pristine, unspoiled isles. However, it's important to exercise caution when approaching the islands, as there may be swimmers in the area.
The video also showcases a peaceful bay with a charming little harbor. Here, you'll find an authentic local restaurant where you can enjoy fresh fish and potatoes accompanied by a glass of local wine. It's the perfect way to unwind after a 2-3 hour ride on a jet ski.
Our favorite part of the video is when you can see how close you can get to other boats and the sea. You'll also get a glimpse of how meticulously we maintain and service our jet skis, ensuring your safety and enjoyment on the water.
But if the video still hasn't convinced you, head over to our image gallery to see photos of our happy customers. We pride ourselves on providing unforgettable experiences and look forward to welcoming you on board for a jet ski adventure of a lifetime.