From Dubrovnik to Korčula: A Coastal Odyssey by Rental Boat
13-Oct-23 | Insights, Boat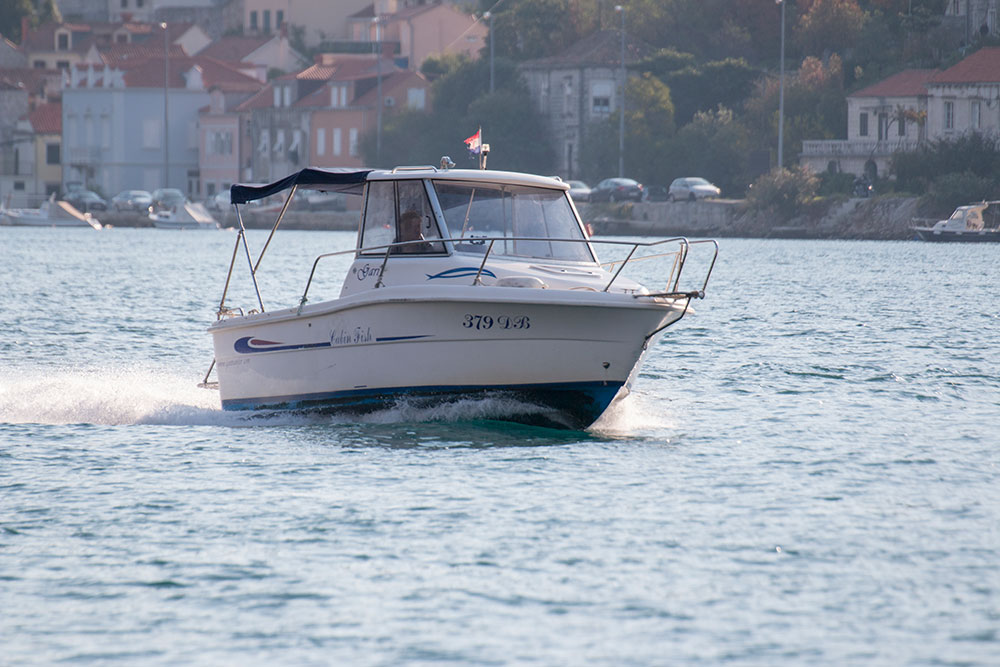 If you're seeking an exhilarating way to explore the stunning Croatian coastline, renting a boat in Dubrovnik opens up a world of possibilities. Imagine the wind in your hair, the salt on your skin, and the freedom to chart your course through the crystal-clear waters of the Adriatic Sea. In this beginner's guide, we'll take you on a coastal odyssey from Dubrovnik to the enchanting island of Korčula, providing you with valuable insights and tips for a truly unforgettable experience.
1. Introduction: Setting the Scene
Before we set sail on our coastal adventure, let's take a moment to appreciate the breathtaking beauty that is Dubrovnik. Known as the "Pearl of the Adriatic," this historic city is renowned for its ancient walls, terracotta rooftops, and azure waters. As you step onto your rental boat, you'll be greeted by the promise of an incredible journey.
The Promise of Adventure: Embarking on a Coastal Odyssey
Your Dubrovnik boat rental is not just a means of transportation; it's a gateway to discovery. The Adriatic coastline boasts hidden coves, secluded beaches, and charming islands waiting to be explored. With the wind in your sails, you'll soon find yourself immersed in the magic of this coastal paradise.
2. Choosing Your Rental Boat
Before we cast off, it's essential to select the right vessel for your adventure. Dubrovnik offers a variety of boat rental options, catering to different group sizes and preferences.
Finding the Perfect Vessel: Boat Options and Sizes
When it comes to boat rentals in Dubrovnik, you have several choices:
Speedboats: Ideal for smaller groups or couples looking for a fast and thrilling ride.
Sailboats: Perfect for those who prefer a leisurely and eco-friendly journey.
Yachts: For a touch of luxury and comfort, consider renting a yacht with all the amenities.
Catamarans: Spacious and stable, catamarans are great for larger groups or families.
Your choice of boat depends on your budget, the size of your group, and the type of experience you're seeking.
Rental Essentials: Safety Tips and Equipment
Safety should always be a priority when embarking on a boating adventure. Ensure your boat rental includes essential safety equipment such as life jackets, first-aid kits, and a VHF radio for communication.
Before departing, familiarize yourself with the boat's layout and safety features. If you're not confident in your boating skills, consider hiring a local skipper to guide you safely through the waters.
3. Planning Your Route
Now that you've chosen your vessel, it's time to plan your route from Dubrovnik to Korčula. This coastal odyssey is filled with scenic beauty and exciting stops along the way.
Mapping Your Journey: Navigating from Dubrovnik to Korčula
Your journey begins in Dubrovnik, and the route to Korčula takes you through the captivating Elaphiti Islands. These islands include Sipan, Lopud, and Koločep, each with its unique charm. Plot your course, taking into account the time you have and your interests.
Scenic Stops Along the Way: Must-See Destinations
As you sail from Dubrovnik, you'll encounter stunning landscapes and picturesque villages. Consider these must-see stops along your coastal odyssey:
Sipan: Explore the olive groves and vineyards on this serene island.
Lopud: Visit the sandy Šunj Beach and the historic Franciscan Monastery.
Koločep: Snorkel in the Blue Cave and take a leisurely stroll around the island.
These islands offer a taste of the Adriatic's natural beauty and local culture, making for memorable moments on your journey to Korčula.
4. Preparing for the Voyage
Before you set sail, make sure you're well-prepared for your coastal odyssey. Packing the right essentials and conducting some last-minute checks can ensure a smooth departure.
Packing for Paradise: What to Bring on Your Coastal Odyssey
Here's a checklist of items to pack for your boat rental adventure:
Sunscreen and hats: Protect yourself from the sun's rays.
Swimwear and towels: Be ready for impromptu swims.
Snorkeling gear: Discover the underwater world.
Picnic provisions: Pack snacks and refreshments for the journey.
Navigational tools: Bring a GPS or smartphone with a marine navigation app.
Camera or GoPro: Capture the scenic beauty of your voyage.
Last-Minute Checks: Ensuring a Smooth Departure
Before you embark on your journey, perform these essential checks:
Fuel: Ensure the boat's fuel tank is full or has enough for your trip.
Weather forecast: Check the weather to plan for smooth sailing.
Emergency contacts: Have contact details for local authorities and your rental agency.
Charts and maps: Bring navigational aids to help you stay on course.
By being well-prepared, you'll set the stage for a memorable coastal odyssey.
5. Departure Day: Sailing from Dubrovnik
The day has finally arrived, and you're ready to cast off from Dubrovnik's shores. Here's what to expect on your first moments on the Adriatic.
Casting Off: Your First Moments on the Adriatic
As you leave Dubrovnik behind, you'll feel a sense of exhilaration and freedom. The open sea beckons, and the possibilities are endless. Take in the panoramic views of the city's iconic walls and the deep blue waters that stretch before you.
Cruising the Dubrovnik Riviera: Sights and Sounds
The Dubrovnik Riviera is a sight to behold from the water. Keep an eye out for dolphins that may join you on your journey. The rugged coastline, dotted with caves and hidden beaches, will tempt you to explore every nook and cranny.
Stay tuned as we continue our coastal odyssey, exploring the Elaphiti Islands and making our way to the charming island of Korčula. Whether you're in search of relaxation, adventure, or a bit of both, this journey has it all.
6. Exploring the Elaphiti Islands
The Elaphiti Islands are an archipelago of natural wonders, and they beckon with their beauty. Let's dive into what makes each of these islands special.
Island Delights: Sipan, Lopud, and Koločep
Sipan: The largest of the Elaphiti Islands, Sipan is a tranquil retreat known for its lush landscapes and historic charm. Stroll through olive groves and vineyards, visit the Sipan Museum, and savour local delicacies in quaint taverns.
Lopud: With its stunning Šunj Beach and the historic Franciscan Monastery, Lopud offers a mix of relaxation and culture. Spend some time sunbathing, swimming, and exploring the island's hidden corners.
Koločep: Known for its Blue Cave, Koločep is a snorkeler's paradise. Dive into the crystal-clear waters and witness the underwater magic. Take a leisurely walk around the island, admiring its lush vegetation and serene ambiance.
Each of these islands has something unique to offer, and you can choose to explore them all or pick your favorites based on your interests.
7. Crossing to Korčula
As you bid farewell to the Elaphiti Islands, it's time to make the journey from the archipelago to the island of Korčula.
Navigating the Open Waters: From Elaphiti to Korčula
The open waters between the Elaphiti Islands and Korčula provide a sense of adventure and anticipation. Your boat will glide through the Adriatic, giving you a chance to truly appreciate the vastness of the sea.
Arrival on the Island: First Impressions of Korčula
Korčula welcomes you with open arms as you arrive on its shores. The island is famous for its medieval Old Town, often described as a miniature Dubrovnik. As you approach, you'll be captivated by the terracotta rooftops and stone walls that characterize this charming destination.
8. Korčula Unveiled
Korčula is a destination that deserves exploration. Let's uncover the secrets of this captivating island.
Discovering the Old Town: History, Culture, and More
Korčula's Old Town is a maze of narrow streets and historic buildings. You can explore:
St. Mark's Cathedral: A stunning example of Gothic-Renaissance architecture.
Marco Polo House: Visit the birthplace of the legendary explorer.
Local markets: Sample fresh produce, seafood, and local wines.
Korčula's rich history and culture come alive as you wander its streets.
Beach Bliss: Sun and Sand on Korčula's Shores
Korčula offers a variety of beaches for every type of traveler. Whether you prefer secluded coves or bustling shores, you'll find your perfect spot to soak up the sun and take a dip in the Adriatic.
Some notable beaches include:
Pupnatska Luka: A picturesque pebble beach surrounded by cliffs.
Lumbarda: Sandy beaches ideal for families and watersports.
Vela Pržina: A stunning sandy beach on Lopud Island.
With its mix of history, culture, and natural beauty, Korčula is a destination that caters to all tastes.
9. Adventures on Korčula
Korčula offers a range of exciting activities to make the most of your time on the island.
Excursions and Activities: What to Do on the Island
Here are some recommendations for adventure-seekers and culture enthusiasts:
Wine Tasting: Korčula is famous for its wines, and you can explore local wineries.
Kayaking: Paddle along the island's coastline and explore hidden bays.
Hiking: Discover the island's interior with its lush landscapes and scenic viewpoints.
Scuba Diving: Dive into the crystal-clear waters to explore underwater caves and marine life.
Korčula has something for everyone, whether you're in search of relaxation or thrilling experiences.
10. Return Journey to Dubrovnik
As your time on Korčula comes to a close, it's time to bid farewell to the island and embark on your return journey to Dubrovnik.
Farewell to Korčula: Setting Sail for Dubrovnik
Leaving Korčula is never easy, but the Adriatic awaits your return. As you sail back, take one last look at the island's beauty and cherish the memories you've made.
Reflecting on Your Coastal Odyssey: Memorable Moments
Your coastal odyssey from Dubrovnik to Korčula has been filled with adventure, beauty, and discovery. As you approach Dubrovnik's shores once again, reflect on the experiences you've had, the friendships you've forged, and the wonders of the Adriatic Sea.
11. Safety and Tips
Before we conclude our coastal odyssey, let's revisit some important safety tips and offer a few additional recommendations for a seamless journey.
Staying Safe at Sea: A Reminder of Essential Safety Measures
Life Jackets: Always wear life jackets when onboard, especially in rough waters.
Weather Awareness: Keep an eye on weather conditions and be prepared for changes.
Navigation: Familiarize yourself with navigational tools and charts.
Emergency Plan: Know the location of safety equipment and how to use it.
Top Tips for a Seamless Coastal Odyssey
Respect the Environment: Keep the seas clean by disposing of waste properly.
Local Etiquette: Follow local customs and be respectful of island communities.
Local Cuisine: Try local dishes and support island businesses.
Plan Ahead: Reserve your boat rental in advance, especially during peak seasons.
12. Conclusion: A Journey to Remember
As we conclude our coastal odyssey from Dubrovnik to Korčula, we hope this guide has been instrumental in planning your own adventure. The Adriatic Sea has a unique way of captivating the hearts of those who explore its waters, and we trust that your journey has been nothing short of extraordinary.
Whether you're an experienced mariner or a novice sailor, the beauty of the Croatian coastline is an experience to cherish. So, as you disembark in Dubrovnik, take with you the memories of your coastal odyssey and the promise of future adventures on the high seas.
We encourage you to explore the diverse options of watercraft, boats, and high-speed jet ski rentals for your Dubrovnik adventure with Garitransfer, your trusted local tour agency. With expert crews and the best prices in town, they are your go-to source for creating unforgettable maritime memories.
Bon voyage and safe travels as you continue to explore the wonders of Dubrovnik and the Adriatic Sea!