NEW JET SKIS AVAILABLE IN 2016!!!
19-Apr-23 | Insights, Jet-Ski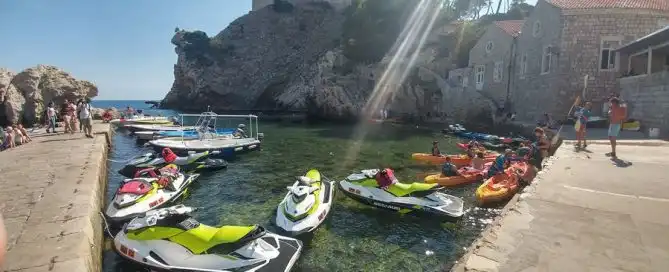 Oh, what summer is expecting us only several months from now? Although we have the latest line of the coolest jet skis available that is not enough for our taste. We want to be known as pioneers of modern water technology in this area of the Adriatic. That is why we will get you several brand-new jet skis. We will present them as a surprise at the beginning of 2016. But for now, the most important thing for you to remember is when you hop on them – you need a life jacket which we will provide for you. Of course, you can always bring your own if that will make you feel more comfortable. Also, don't forget to bring with you a waterproof box for your phone. Most cell phones today are a technological marvel, but unfortunately, they are not waterproof nor they can float. Therefore, if you go on a longer ride around the islands make sure that you bring your waterproof box for your phone. Also, we will provide you with a small anchor. A lot of our clients like to just float in the sun, and that is why you need a small anchor. There is also one additional thing that we can provide for you – water tubes. You can bring one with you or we can provide one for you. With this new line of powerful jet skis, it would be awesome for your friend to hop on a tube and be pulled over steady waters at high speed. There is also one more thing which would be good for you – a small folding paddle. With this small accessory, you will be able to get yourself to the shore in case the waves are high and you need to approach the shore at a lesser speed. So finally now you have your jet ski on the dock. You might be wondering now: how do I lock this cool piece of technology down? Well, it is very simple. Just use a bicycle lock. In this way, you can go for a walk around the island and feel free that nobody will drive away your jet ski. A good idea to have with yourself is a whistle or air horn. This is just for safety purposes. Although we never had to use it, it is good to have it for fun. Imagine your group of five people having fun riding jet skis, and instead of yelling you can use these cool whistles. A good idea to bring with you is a dry bag. You can always put your clothes and other items in this bag without being afraid that they will get wet. Another great characteristic of this type of bag is the fact that it can also float in case you accidentally drop it on the surface. Before you hop on don't also forget to bring your clothing or sports gear. Imagine a wonderful day and wanting to go for a run around some islands. A lot of our tourists love to do this. Now, are you ready for summer 2016? I am happy.