IS IT PROPER TO SAY JET SKI OR WATER SCOOTER?
24-Aug-23 | Insights, Jet-Ski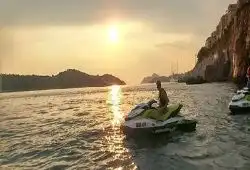 Every true lover of his profession needs to know the answers to some unusual questions that come up. Here and there we get very knowledgeable clients who love jet skies and they regularly praise our very rare collection of up-to-date jet ski offerings that we have. Having jet skis is a very expensive sport especially if you want to meet the latest technology standards. And in these sports technology helps increase safety standards as well as provide better joy of the ride.
But when did the first jet ski show up in the marketplace and is it more proper to call it a jet ski or water scooter? Jet skiing belongs to a group of water sports, but what exactly is it, and how did it develop through history? Jet skis, also better known as water scooters or personal watercraft is a recreational vehicle for one person (this person can sit on it or stand on it). Today there are also jet skis designed for two to four people. The name jet ski comes from the water scooter brand name which was produced by Kawasaki. Over time, the jet ski became a symbol for all water scooters.
First jet skis started to show up in the marketplace during the 1980s. One of the first models produced was Suzuki's "Wet bike". It was constructed based on a snow bike, and it was navigated through its front ski. Soon, Kawasaki produced relatively smaller and more practical scooters, models which were designed for standing, and which could achieve a speed of 60 km/h. After that, Yamaha produced its own model which could reach a speed of 50 km/h.
Very soon after that jet skis started arriving in the marketplace in sizes longer than 3 meters and heavier than 250 kg. Today's jet skis can develop a speed of 140 km/h and this is exactly the reason why they became so popular. Not only that they are great toys for recreational purposes, but also for racing and competition purposes. There is even a European Championship which was founded in 1987 and it is truly one of the most exciting racing competitions. The championship is being held regardless of the weather conditions. Not even one race, up until now was canceled. Do I compete in these races? No, I usually go to official racing competitions just for a visit and to find out about the latest jet skis that are available in the market.
More or less, every jet ski that has come out within the last year or two has the same features. I mean there are no more technological advances that you can really add to a jet ski, because it is of the perfect design, speed, comfort, gas consumption ability etc. Great technology also requires great maintenance of these new jet skis. Not only that you need to know how the motor functions, but if you want to keep maintenance prices low you also have to be great with electrical "stuff". I call it stuff… Florijan, my brother, is technically sounder about these terms and he has more proper vocab. If you have questions about the motor itself, he is the man.